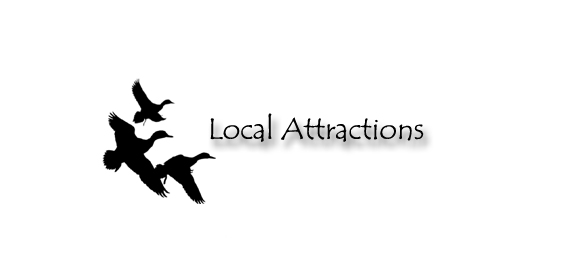 First Monday Trade Days at Canton
Worlds largest Flea Market An Adventure as Big as Texas… World-Famous – The greatest shopping experience, a true Texas tradition since the 1850s! A "County Fair" atmosphere offering shoppers more than 5,000 booths makes Canton's First Monday is the largest flea market in the country. You'll find antiques & collectibles, arts & crafts, old & new merchandise, tasty treats and great fun. Treasure hunting throughout the 150-acre park. Over 3000 vendors in open-air booths, under covered pavilions, and indoors. Open Thursday-Sunday before the First Monday of each month. Be sure to start at the original First Monday Grounds, on the west side of Hwy. 19, two blocks north of the downtown square. R.V. & tent camping, nearby motels.
800 Flea Market Rd
Canton, TX 75103
(903) 567-6556
www.firstmondaycanton.com
Twin Lakes manages the difficult double task of challenging serious players while giving rookies a great place to learn to play this classic game. Away from the hustle and bustle of the city you get the feeling that you are the only player on the course amidst the picturesque scenery. Course architect Robert Hay designed the course around two beautiful lakes adding minimal changes to enhance the already gorgeous landscape. Our course is surrounded by a 1,000 acre tree farm, Twin Lakes Nursery, which helps us create a serene natural feeling to compliment the course.
300 Vz County Road 4205
Canton, TX 75103
Phone:(903) 567-1112
www.twinlakesgolfcourse.com
Theater complex with multiple screens, all-stadium seating & self-service ticketing kiosks.
218 Wood St
Athens, TX 75751
Phone:(903) 677-2003
www.cinemark.com
Whatz-Up is your one stop for good food and great times! Where else can you challenge your family to a round of mini golf, a race on the go-karts, or a shoot out in laser tag? Or where else are you not only encouraged but rewarded for playing video games? Whether you're 5 or 75, Whatz-Up Family Fun Park is the cure for boredom.
700 E Cedar Creek Pkwy
Seven Points, TX 75143
Phone:(903) 432-9955
www.wuffp.com
5706 FM1653
Ben Wheeler, TX 75754
(903) 479-0141
Texas Freshwater Fisheries Center
Discover the mysteries of underwater life as you've never seen it before. Texas Parks and Wildlife's newest showcase facility is home to the world's largest bass, dive show, museum, working hatchery, and casting pond….a truly unforgettable adventure! Operated by the U.S. Forest Service. The only facility of its kind in North America!
Texas Freshwater Fisheries Center
5550 Flat Creek Rd. (FM 2495)
Athens, TX 75751
Phone: (903) 676-2277
http://athenstx.org/things-to-do/texas-freshwater-fisheries-center
The Fund for Animals operates the world famous Black Beauty Ranch in Murchison, Texas. The 1,620-acre refuge is home to many hundreds of animals — from chimpanzees to burros to elephants. Here, animals do not get harassed or harmed, but a helping hand and a loving home. The ranch is not a zoo and is not open for regular public visitation. Amory's vision was that it "would be a place where animals are looked after, not looked at." In 2004, the board of directors of The Fund for Animals voted unanimously to rename its flagship animal sanctuary the Cleveland Amory Black Beauty Ranch to memorialize its late, great founder. Donations are gratefully accepted to assist in the care of the animals. There is a small gift shop with Cleveland Amory's books and Black Beauty Ranch merchandise such as T-shirts, travel mugs, and stuffed animals.
12526 Co Rd 3806
Murchison, TX 75778
(903) 469-3482
www.blackbeautyranch.org
Tanger Outlets in Terrell Texas
Shopping-mall chain featuring a variety of brand-name & designer outlet stores.
301 Tanger Dr, Ste 113
Terrell, TX 75160
Phone:(972) 524-6034
www.tangeroutlet.com/terrell
Are you looking for Mexican cuisine that doesn't require a trip south of the border? The Michoacano Mexican Grill brings the hospitality and specialty cuisine of Mexico to the heart of Athens.
26486 TX-19
Athens, TX 75752
Phone:(903) 479-3014
Come to YesterLand Farm for a nostalgic step back in time. It's old-fashioned fun on the farm, but with a new twist! Fall festivities and pumpkins. Christmas trees and a winter PlayLand with Santa. School field trips and more! Family entertainment in Northeast Texas — just one mile from the famous Canton First Monday. And this year … we're doing AfterDark at the farm, too!
15410 I-20
Canton, TX 75103
(903) 567-2255
www.yesterlandfarm.com
White Fox Vineyards is a family-owned and operated winery that serves Muscadine wine and other specialty fruit wines. We look forward to your visit!
For almost 100 years Moore's Store has provided East Texas with the finest products and services. The difference now is that instead of hardware, dry goods, and ammunition we offer amazing food, LIVE Music, and a full bar. Located in a dry county and offering a full bar makes us a "private club" according to state law. Our membership is unlimited and open to anyone over 21 with NO membership fees. Ben Wheeler is an all consuming experience of which Moore's Store is just a part. We're conveniently located at the center of the newly renovated arts district, surrounded by shops, galleries, and historical sites. Moore's Store was voted BEST LIVE MUSIC VENUE in Upper East Texas by County Line Magazine in 2013. For more information, to purchase concert tickets, or see who's playing visit our website
1535 FM279
Ben Wheeler, TX 75754
(903) 833-5100
www.mooresstore.com
Big complex with high-speed waterslides, a wave pool, a kids' castle in a pool, plus snack-bar eats.
18814 I-20
Canton, TX 75103
(903) 567-0044
www.splashkingdomwaterpark.com